Το Spendor Classic 100 ειναι ηχειο βασεως , 3 δρομων με μεγαφωνα κατασκευης Spendor .
Δεκτες ανταλλαγες . Δυνατοτητα δοσεων μεσω πιστωτικης .
22mm wide surround tweeter with fluid cooling for extended (25kHz) response
180mm Spendor made midrange drive unit with phase correction design
300mm Spendor made bass driver with lightweight bextrene cone
Audio grade crossover components with gold conductors
Silver plated pure copper internal cables throughout
Gold plated binding posts on the rear
Temperature stabilised rubberised cabinet damping pads
Classic thin-wall design to reference standards
| | |
| --- | --- |
| Description | 3-way stand mounting loudspeaker |
| Enclosure type | Reflex |
| HF drive unit | 22mm wide-surround dome with fluid cooling |
| | 180mm Spendor made EP77 polymer cone |
| | 300mm Spendor made bextrene cone |
| Sensitivity | 89dB for 1 watt at 1 metre |
| Crossover point | 490 Hz, 3.6 kHz |
| Frequency response | 25 Hz to 25 kHz ± 3dB anechoic |
| Impedance | 8 ohms nominal |
| Impedance minimum | 5.5 ohms |
| Power handling | 25-250 watts unclipped programme |
| Terminals | Gold 2/3 way binding posts bi-wired |
| Cabinet (HxWxD) | 700 x 370 x 433mm |
| Finish | cherry , dark walnut |
| | |
Finishes :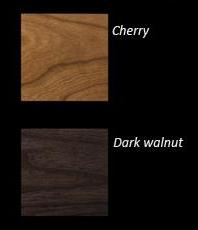 Reviews :
Hifi plus Magazine

January 2008

"The Spendors possessed a snappy, tight and extremely rhythmic bottom end... ...orchestral music had that great sense of authority and scale that it so believable, while well recorded rock music with real drums was just awesome"

What Hifi Magazine

April 2008

"A wonderfully engaging sound with plenty of scale; tonal refinement; great midrange; easy to drive and partner... ...few if any can deliver music - any music from Metallica to Madonna to Mahler - in such a fluid, natural and downright insightful manner. There are some great speakers at this price level, but it's hard to think of any that deliver such a beguilingly balanced performance"
What Hifi Magazine

October 2011

"The SP100R²'s are gentle giants. They do everything you could hope for in such a large design, but with a grace and refinement that their appearance doesn't even hint at."

"...the SP100R² doesn't smack you in the chest. Instead the lows flow, swelling as the music demands, while agility and definiton are still crisp. Move upward and it's all good news. The new in-house midrange unit along with the 22mm wide surround tweeter combine to deliver a lovely, natural presentation. The SP100R² manages to sound fluid, informative and entertaining without edginess, even with poor recordings."

"Perhaps the SP100R²'s biggest strength is that they're easy to listen to for hours without getting tiring. Their ability to reveal and entertain while remaining undemanding is a rare one."
Κράτα το
Κράτα το
Κράτα το
Κράτα το
Κράτα το
Κράτα το
Κράτα το
ΔΩΡΕΑΝ ΑΠΟΣΤΟΛΗ ΣΕ ΟΛΗ ΤΗΝ ΕΛΛΑΔΑ