Ο Vertere Reference Tonearm Generation III ειναι βραχιονας 9". Μερικα χαρακτηριστικα: Arm Tube και Headshell απο τιτανιο, ρυθμιση σε κλιμακα μικροχιλιοστου, ρυθμιζομενο Effective Mass, ρυθμιζομενο VTA, μαγνητικο antiscating κλπ.
Εγγυηση Αντιπροσωπειας. Δυνατοτητα δοσεων, ανταλλαγων.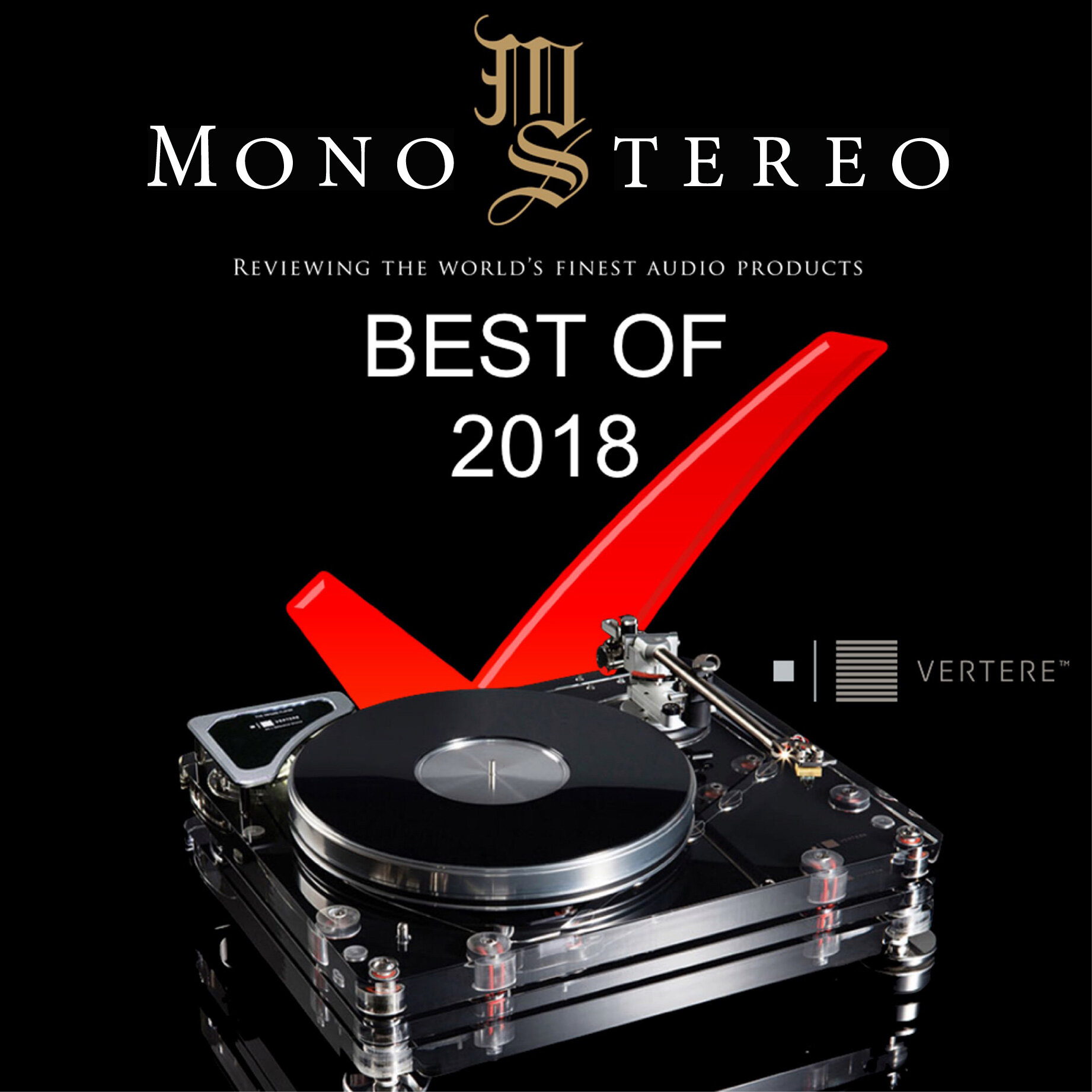 Since its debut in 2014, Vertere Reference Tonearm has been the absolute benchmark and has facilitated the design of all subsequent Vertere reference products. Every part of the Vertere Reference Tonearm has been individually designed and manufactured to overcome the shortcomings of existing tonearms. Each detail is meticulously engineered and contributes to the excellence of the whole. Performance is enhanced to a level of resolution, clarity, dynamics, timing and sheer power that is normally associated with live music. The third generation brings additional flexibility, ease of use/fine-tuning and, of course, improved performance.
Why Reference Tonearm Gen III ?
The unique vertical and horizontal pivoting motion is provided by non-rotating fine Kevlar fibre. The result is the first truly ?noiseless? and stiction-free tonearm bearing.
The main counterweight is articulated in the vertical and horizontal planes through precision ball race bearings. To ensure accurate tracking even on warped records.
For ideal rigidity, the arm tube & head shell are machined from solid titanium then fuse welded to form a homogenous component.
Horizontal & Vertical bearings are offset by 23mm to optimise tracking accuracy and information retrieval.
Anti-skate force is applied using microns thick non-resonant, frictionless silicone polymer strip with gradual magnetic componsator.
Unique Transit Clamping System allows secure transportation keeping the arm/cartridge safe and perfectly setup. In addition, the UTCS ensures exact performance after shipment and reinstallation. The use of the clamp also assists with mounting the cartridge safely and precisely.
Custom built lift/lower mechanism, precision engineered to ensure smooth, firm & accurate cueing.
What makes this tonearm so special ?
The perfect, ideal tonearm would be of variable effective mass to suit whichever cartridge the owner chose and would be super-rigid but without any resonance. It would be easy to setup but allow adjustment right down to the micromillimetre, and it would be acoustically transparent and disappear, allowing the cartridge to do its thing.
The Gen III tonearm gets ever-closer to this ideal: The effective mass is adjustable, the titanium headshell and arm tube are super-stiff but have no apparent resonances, and every aspect of the setup is easy and repeatable. Some might be describing the Gen III as the ultimate in flexibility and almost the Universal Tonearm.
Specifications
Type Pivoted
Effective Length 240mm Horizontal, 263mm Vertical
Overhang 17.5mm
Offset Angle 22.9°
Head-Shell & Arm Tube Titanium & Titanium - Fuse Welded
Bearing Yoke Structure Aluminium Alloy Body, Titanium Insert
Bearing Type Non-Rotating microns-thick Kevlar thread fibres
Counter Weight Stainless (Standard) + End Discs, Stainless & Tungsten Carbide (Heavy) + End Discs, Articulated Triple Ball Races
Internal Wiring Special Hand-Built Pulse, Signal & LED Power Wiring
Counter Weight System Articulated ? Three Ball Races
Connector Proprietary Cartridge & Cable Connectors, Triple-thickness Gold Plated Contacts, Vertere 7-Way Tonearm Connector
Tonearm Cable Special Pulse-HB Hand-built, Triple-thickness Gold Plated Contacts, Vertere HB Reference 23.95ct Gold/5 micron+
Queuing Light Power Supply Dimmable ? Battery Powered
Standard Counterweight (x1) 142g
Standard C/W Disc (x6) Each 7.6g
Special Counterweight (x1) 83g
Tungsten Carbide C/W Insert (x1) 114g
Special C/W Disc (x4) Each 7.6g
Overall Weight (With Std C/W & x4 Discs) Approx. 627g
Technology
Vertere Reference Tonearm Gen III is a true state-of-the-art component, which can transform the performance of high-end record playing systems. The Vertere Reference Tonearm has been created to push the boundaries of analogue reproduction by systematically addressing every aspect of tonearm performance. Each individual component is bespoke and has been specifically designed to complement the overall philosophy, design and purpose of the Vertere Reference Tonearm.

The unique bearing design of the Vertere reference Tonearm provides a noise-free and a stiction-free operation of the tonearm. This achieved by utilising microns thick metal/polymer laminate film acting as the bearing. With this unique configuration there are no rotating or sliding components in the bearings. The arm tube and the head shell are both made of titanium and tight tolerance fitted to each other. Titanium has a property to fuse weld with such tight tolerances making the head-shell and the tube effectively one piece. This maximises rigidity to weight ratio and provides the optimum support for the cartridge.

Vertere Reference Tonearm has unique split geometry, where in vertical direction the arm has a longer effective length than that in the horizontal direction. This split geometry ensures that the cartridge can track very low frequencies cut in mono as well as the higher stereo frequencies with absolutely integrity. The counter weight assembly is fully articulated to regulate tracking weight when the record is warped ? even with slightest of up and down movements of the tonearm. Every note is played with life-like dynamics and clarity.

Internal wiring is a special version of Vertere Hand-Built Pulse cable, in one continuous run from the cartridge tags to the exit cable connector at the base of the tonearm. All connectors and contacts are custom made with three times the standard thickness of gold plating.

Special care has been taken to make sure that the arm will be easy to calibrate and a delight to use. The tonearm cueing light, integrated into the head-shell, is a blessing when playing records as well as being an essential aid when setting up a cartridge.

It discreetly and pleasingly illuminates the record grooves in the area around the stylus contact point, making it easy to cue records precisely without disturbing the mood lighting of your listening room.

With its own dedicated power supply, the light may be dimmed or switched off at will. The lift/lower mechanism itself is custom-built from solid stainless steel and has been precision engineered to ensure smooth, firm and accurate cueing.

When it comes to calibration, the Vertere Reference Tonearm is properly engineered to give complete accuracy and certainty in cartridge set-up.

Precise setting of VTA is made easy by a fine adjustment screw that?s additional to the main setting of arm pillar height, while the arm mounting also provides for fine adjustment of azimuth.

The performance of a record playing system using the Reference Tonearm will be enhanced to a new level of resolution, clarity, dynamics, timing and sheer power that would normally be associated with live music.